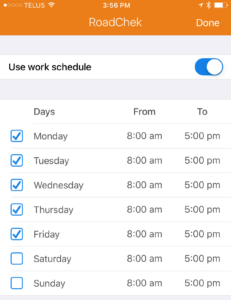 RoadChek, the popular driving behavior app that teaches drivers of all shapes and sizes to drive more safely, took a big step forward today, with the release of automated scheduling -a key to respecting the privacy of drivers.
By setting a work schedule in the app or in the cloud-based RoadChek fleet management portal, drivers are assured that the app will not monitor their GPS location or driving behavior while they are off shift. This unique feature will actually shut down the app at the end of the scheduled shift, then start it back up at the beginning of the next shift. This not only protects the driver's privacy, but saves additional smartphone battery life.
The fleet supervisor can choose to set a master schedule for the driver in the web-based RoadChek fleet management portal or leave it up to the driver to turn the app "On Duty" or "Off Duty" manually. Of course, system reliability will typically be better if the schedule is automatic, as it eliminates the need for driver intervention. Even when a schedule has been set by the supervisor, the driver many manually go On or Off Duty to accommodate sudden changes in shifts, such as overtime or personal time, such as a dentist appointment. In a new feature, to be released soon, the fleet supervisor may pull an exception report, which will show any incidences where the driver deviated from the pre-defined schedule.
RoadChek's new scheduling feature extends the system's utility for fleets of all types, allowing service and volunteer organizations to increase the safety of their teams, while respecting their privacy.